Hello everyone, and welcome to my gallery of random shizz I do in Photoshawp.
Everything in this gallery belongs solely to me, unless specified as a gift for a friend or as a request.
Now that formalities are over,
I do hope that you like what you see!

A gift to a dear friend of mine
,
who I hope still enjoys looking at this signature from time to time.

This signature was made during the time that I mained
Litchi Faye Ling in BlazBlue: Continuum Shift.
If you didn't know by my Red Text,
I watch a lot of Umineko no Naku Koro Ni
,
and Kanon is one of my favorite characters in the series.
Ezio Auditore Da Firenze.
This was made while I was part of a Nintendo Forum,
and had changed my Forum name to "Kanon."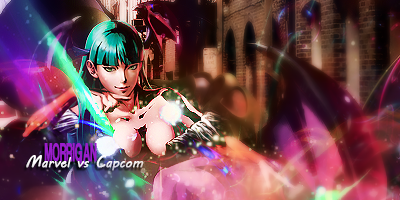 This signature's creation is due to my friend's 19th birthday.
He adores Fighting Games, and he adores Morrigan Aensland
,
so why not make a signature of his soon-to-be favorite Fighter?

Ah, Desmond. He is quite awesome as seen in this picture.
This was a bit of a failed attempt at a vector signature.
I'm terrible with the pentool,
but who isn't when they're still starting out?
My newest creation.
No, I haven't finished the series,
so please don't spoil it for me!
Shizz older than 4 months:
Roll(Megaman)
Ashe(Megaman ZX Advent)
Rose(Super Street Fighter IV)
C. Viper(Super Street Fighter IV)
Eva Unit 01(Neon Genesis Evangelion)
Gardevoir(Pokemon)(Made for Friend)
Beautifly(Pokemon)
I occasionally take requests
, but do not feel as if, if you were to ask me for something, it would be guaranteed.